ABOVE: Photos immediately before incidents that gave rise to three arrests, 2014 to 2017:
(1) Resident and landscaper unprovoked agress toward us after we took photos, left the scene, and called police; (2) Resident in rational conversation prior to becomong enraged, leaping from his car and charging at us; (3) Resident approaching menacingly on public street as we took photos.
For about seven years, we worked on Long Island pioneering a type of citizen-environmental-action that shook up judges, courts, government bodies, and law firms: See our archive of media clippings. See also: Our Wordpress Legal-Biography. But almost the only evidence of environmental activist Richard Brummel's work readily-accessible on Google or Bing! is now a single jury-rigged article (by its rabidly "free-market" publisher) clearly intended to discredit us. And it tends to work: Even the young Pastor of the Church whose forest we are trying to save, whom we met multiple times, wrote an email condemning us based on that article. It clearly demands clear explanation. Our brand of grass-roots action has included not only getting dressed up and testifying at length, rallying residents, appearing in the media, and creating complex, ground-breaking environmental lawsuits with cutting-edge law and original approaches, but also documenting and 'bearing witness' when chainsaws sickeningly destroy the beautiful local tree canopy -- and home to wildlife -- that has made Long Island -- and our NY-region -- so ecologically rich. Such on-the-ground activism led to our unfortunate encounters with the often thuggish, sometimes out-of-control Nassau County Police Department. Yes, we were arrested, falsely in fact, on three (3) occasions from 2014 to 2017, when we had literally defended ourselves from over-entitled wealthy Long Island home-owners who felt they not only had permission to destroy their beautiful trees (or their neighbors') but they also to confront or deter us from taking photos of them (or their neighbors') doing so, from the public streets. (This above-the-law mentality is very typical on Long Island, and condoned at all level of government until it becomes too scandalous.) None of our arrests -- which led to overcharging and in one case physical abuse -- were disposed of as 'crimes': one was dismissed by "adjournment in contemplation of dismissal" (ACD), and two were pleaded as "disorderly conduct". One case was pleaded under coercion and duress by the Court -- which was aggressively emptying its docket -- and we later challenged it pro se (by ourselves) by post-judgment motion under the NY criminal procedures. See legal papers. (Challenging the senior judge in Nassau County, we predictably lost after a very diligent fight.) The actual incidents were as follows: (1) In 2014, after we had photographed some unnecessary tree-destruction at a million-dollar house in Roslyn Estates, L.I., the resident and her landscaper accosted us at our own car, far from the house, and when we pulled out a fire-extinguisher to back them off, the arriving police -- whom we had called! -- arrested us for"menacing". The charge was dismissed by ACD agreement.
Photo of trees being cut down at 9 Poplar Drive, Country Estates, November 10, 2014: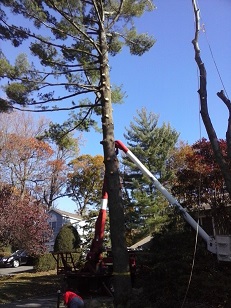 (2) In 2017, a seemingly civil discussion with a nearby neighbor in our hometown of East Hills, L.I., over the unnecessary destruction of a grand old Oak tree spiralled out of control when the neighbor jumped out of his car and lunged toward us. We threw one punch in self-defense, deflecting the attack, but the police charged us alone. (3) And in 2019, we were again taking photos of over a dozen trees being cut down in Roslyn Heights-Roslyn Country Club, L.I., when a neighbor approached us and challenged our presence on a public street. When the man got within feet of us, waving his hand in our face, we kicked him lightly in the thigh, and he walked away. A month later, the police charged us with 'assault on a senior citizen', and a gullible judge in Nassau District Court -- who listened to lies from the young assistant district attorney but cut off our reply -- imposed $5,000 bail, despite our near-flawless record of attending all court proceedings in the past.
Photo of trees being clear-cut at 8 Barnyard Lane, Roslyn Hts.-Roslyn Country Club, July 12, 2019: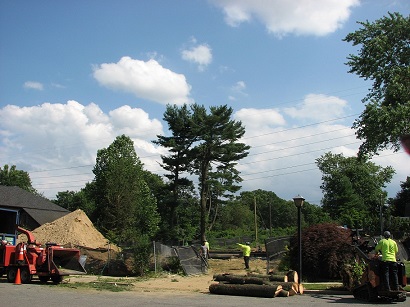 But in each case, cooler heads -- and the law -- eventually prevailed, implicitly recognized our actions were not criminal but self-defense, and the charges were settled as either a violation of 'disorderly conduct' or agreed to be dropped after a waiting period (ACD). In fact in the 2017 case, we went back to court to challenge the disorderly conduct plea in as being the product of coercion -- which it undeniably was -- and we filed a massive case detailing misconduct by the judge, police, prosecutor and our own court-appointed attorneys, not to mention the resident who charged at us sparking the incident in the first place, and his inaccurate witnesses. It was an arduous undertaking to dissect the case from the inside out, including the files of our incompetent and mendacious appointed-counsel, but it produced a unique documentation of how dysfunction occurs in the Nassau County justice system. (Sadly no media picked up the story, though we publicized it, and crony judges -- the presiding judge was a protege of the judge in question -- both covered for their colleagues and intimidated us, with some success.) Over a five year period from 2013 to 2018, we single-handedly filed over a dozen highly sophisticated legal actions, ranging from a fight for two beautiful oak trees in the Village of East Hills, our hometown, to organizing single-handedly a battle to preserve 150 acres of magnificent forests and meadows at the former Nassau County East Office Campus in Plainview, about fifteen miles away. We appeared on the local CBS news in New York, in The New York Times, in Newsday, and some dozens of times in the local newspapers. We also appeared multiple times in media in upstate Rochester, N.Y. in relation to our pioneering legal work to fight a squirrel killing contest sponsored by a local volunteer fire department. We have also testified orally and in writing dozens if not hundreds of times before village, town, county, and a couple of state boards in New York, and more recently in New Jersey as well. But ours is not a genteel environmentalism. We not only litigate, but also get on the ground to photographically document -- and very rarely to verbally engage -- those destroying our environmental heritage (and future). The type of direct action we practice sometimes involves standing alone on streets photographing damaging construction or tree-destruction or protesting with signs where no one has done it before or we are simply unwelcome. Sometimes we have forced local authotities to change their practices as well. Someone has to do it, if the unending destruction of our undefended suburban environments will ever be halted. We are trying on several fronts to do so. Please stay tuned.