Mineola Destroys Healthy Trees as Public Policy
Despite the semi-bigoted tack against us taken by some residents and officials in Mineola, we have persisted in exposing -- but have been unsuccessful in halting -- the Village'as practice of destroying healthy public trees whend they reach a certian age without any apparent input from professional arborists supporting their practices, and certainly not from the general public at large. We have now revealed that Mineola cut down well over 1,000 trees on public property since 2010, according to documents we obtained under the state Freedom of Information Law (FOIL) Official Reply. Before then, we knew the Village was engaging in a reckless, unjustified and secretive policy because we stumbled on their plans to removed EIGHT extraordinary Sycamore/London Plane trees on Roslyn Road in May (see below). The Village did not announce or disclose their plans; we found out by questioning other agencies and received an answer from LIPA -- though the answer withheld the fact that the tree destruction was imminent. Working with some local residents we hope to change Mineola's policy of destroying any tree that reaches a certain size, regardless of its health, and open up the process to the public -- which has repeatedly expressed its concerns to us as we gathered signatures on two petitions to save trees there.
June, 2013 -- The story below had a very troubling and outrageous denouement: the Village of Mineola rushed to cut down the trees before the media or others took notice, and with LIPA's "assistance" they inexcusably destroyed this entire line of 50 - 75 year old heritage trees (pictured beow) despite a petition and a report from respected certified East Hills-based arborist Richard Oberlander strongly opposing the action. To its journalistic discredit, The Mineola American, reporter Rich Forestano, produced a long mocking article on the action that uncritically reported the deliberate distortions the Village presented. Other media did little better. At least Richard Tedesco came to the location to observe the situation.
4/26/13 -- Stop Mineola (NY) from Cutting Down These TreesThe Village of Mineola, led by Mayor Scott Strauss, plans -- without telling anyone -- to destroy these eight healthy Sycamore trees (below) at Roslyn Road between Jerome and Jefferson Avenues. Certified arborist Richard Oberlander says there is NO JUSTIFICATION for removing these beautiful and iconic trees. Call the Village and tell them to STOP -- (516) 746-0750, Options #2, then #1. Join organizer Richard Brummel in protesting at the site, call (516) 669-1741. Attend the next Mineola village trustees meeting, May 1st at 6:30 PM at village hall. Help protect our environment and help preserve our wildlife's habitat.UPDATE 5/1/13 Mineola and LIPA began cutting down the trees Tuesday morning 4/30/13. About five are now gone. we have appealed to outside public officials to pressure LIPA or Nassau County (which owns the road) to intervene. We appeared, along with arborist Richard Oberlander and local resident Laura Reil to appeal to the Village Board at their meeting Wednesday evening, to no avail. We had already submitted a quickly-gathered petition of three-dozen nearby residents who asked for a hearing at least before cutting down the landmark-trees Here, and a letter from Richard Oberlander, a highly experienced certified-arborist attesting to the apparent structural integrity of the trees Here. The Village Mayor, Scott Strauss, said there was an arborist opinion from LIPA, but when asked for a copy he claimed the opinion was only verbal and could not be provided. We distributed this flier describing a pattern of environmental failings in the Village with respect to trees Here. We now ask for ANY assistance in preserving the few remaining trees as of Thursday morning, 5/2/13. At very least please call Mineola at (516) 746-0750, press Option 2, Option 5.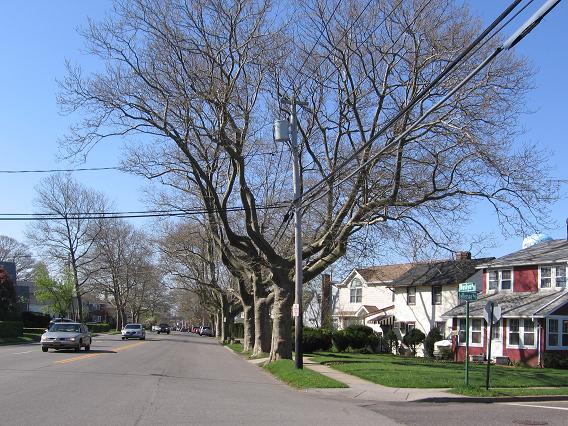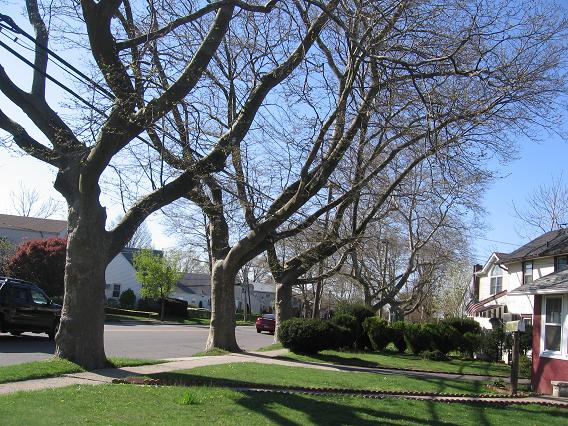 UPDATE -- 6/9/13 -- A new owner has acquired this property and is renovating it, to his credit. We plan to speak to him regarding preserving the tree discussed below, the "Roslyn Road Red Oak Tree".
Massive, Approx. 125-year Old Tree in Mineola, NY, STILL at Risk of Developer's Saw (photo below)
Feb 10, 2013 -- We submitted a petition with 168 signatures we collected throughout the community of Mineola, 70% Village residents and others working or shopping there, to the Village Board last Wednesday, Feb. 6, urging them to take action to protect this massive Red Oak tree that an arborist proclaimed a very special specimen, unusual to find throughout the entire North Shore. He estimated it is 125 years old.Two Village Trustees, Messrs. Werther and Pereira, said after the meeting they supported a Proclamation to try to protect the tree, and Mayor Scott Strauss said the issue remains under consideration. The next meetings of the Village Board are Feb 13 and Feb 20. We need more Mineola residents to speak up. If you wish to help please call me or email me -- Richard Brummel (516) 669-1741, rbrummel AT att DOT net. This tree could face the same fate as countless others across our North Shore communities and be cut down by a profit-oriented developer, since it sits behind a foreclosed, boarded-up home, seemingly ready for demolition. The difference is that an environmental activist (me) saw the house and investigated, brought an tree expert into the picture, alerted the media and residents, and appealed to the powers that be. So far the public sentiment and media attention in The Mineola-American, Mineola Patch, and The Williston Times has not tipped the balance of standard "property rights" and "free market" arguments versus the interest of environmental and community preservation. But we hope what seemed to be a strong consensus in Mineola in favor of protecting this tree -- and possibly other trees -- from elective destruction will make itself clearer before it's too late. Please help if you can! You can collect names on the petition etc. See contact info above. Thank you.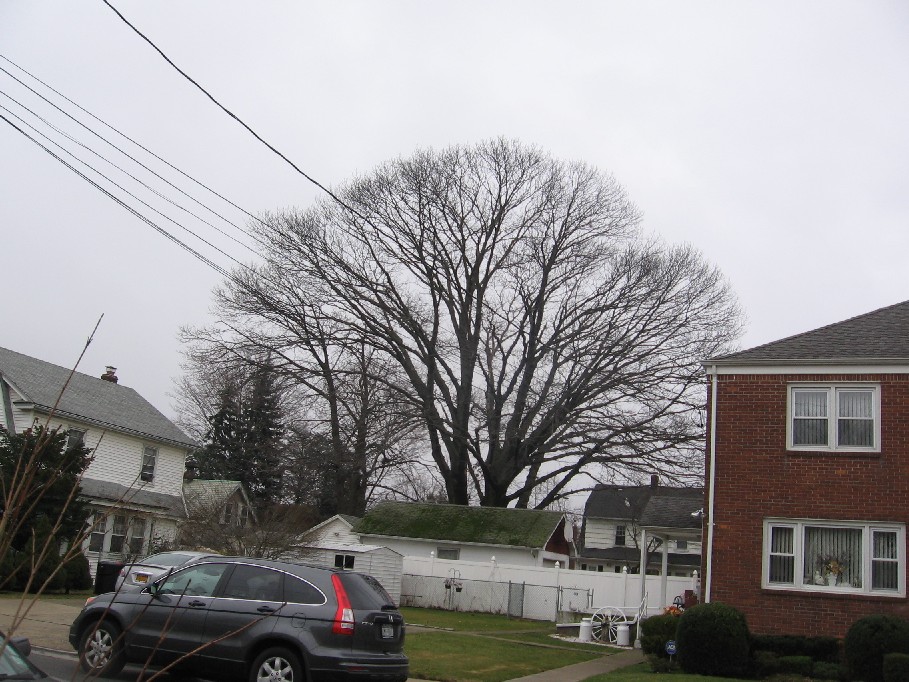 Massive 125-year-old tree in Mineola, NY, at risk of destruction by property-developer. See Text Above. (1/13/13)
Homepage